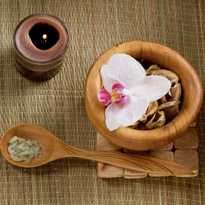 The Ayurvedic Indian Retreat offers you a complete detoxification with focus on stress reduction, immunity, rejuvenation, cleansing and nurturing of the body, mind and soul. The retreat has been designed by keeping in mind the true authentic principal of ayurveda and yoga. Indian holistic science has advised a number of ways to get a healthy body and mind and those unique principals in our retreat will help you to balance the three chakras of your health the physical, physiological and psychological.
People are now recognizing the importance of eating healthily and thinking positively which is the basis of the ancient Indian holistic science. Our Indian detox retreat will leave you feeling completely recharged and better able to deal with the everyday demands at home and at work. A healthier body, complete relaxation and clarity of mind await you.
PLEASE NOTE:
You cannot do an Ayurvedic Indian detox Retreat if you are Pregnant or if you have Type 1 Diabetes. Exception is for people who are suffering from type 1 diabetes only when they bring consent letter from their doctor. Also anyone with chronic or heavily medicated conditions may be asked to supply a doctor's letter verifying that they are fit to come on a retreat. People who are severely suffering from mental illness like schizophrenia and chronic depression are also not advised to do an Ayurvedic Indian detox.
All retreat guests consent to treatment involving the application of all integrated therapies, assessments, consultations and treatments included on the retreat of their own free will and without any coercion or undue influence. All integrated therapies for any disease or chronic condition do not guarantee a cure or remission from any illness. Your Doctor and any specialist consultants will remain responsible for your general medical care throughout the period of application of the integrated therapies. The Sanda Wellness Team and its entire professional staff will act in an advisory capacity only.