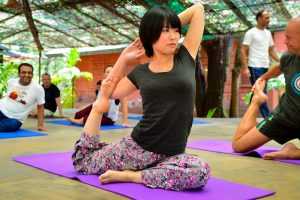 The Yoga and Spa retreat is designed for those who are looking to embark on a relaxing rejuvenating holiday inspired by the science of Yoga, accompanied with Personalized Luxury Spa treatments that will leave you feeling anew with a wide range of treatments to choose from.
This package is especially created not only for those who enjoy practicing yoga in their daily lives, but also for those of you who have only just begun your journey discovering this healing science. Anyone who has recently developed an interest and wants to incorporate this meditative and relaxing practice of yoga into their lives will also find that this retreat will provide you just that.
Enjoy all of these, with our specialized Ayurvedic treatments, holistic oriental massages and pampering Detox facials and detoxifying body wraps! You will feel yourself gently unwinding into a complete state of relaxation.
You can enjoy practicing yoga twice daily with our experienced, warm and caring teachers who have an extensive experience in the field and will guide you and challenge you at a level suitable to your needs. With stress being a constant factor in our lives today, this would be the perfect opportunity to unwind using the gentle yet powerful techniques of yoga asana's, pranayama and meditation. We work with you designing the yoga and meditation sessions to assist you on this journey of your life to achieve health and wellbeing.
Throughout your stay with us we nourish your body through nutritionally balance yogic meals designed according to your body type. We also seek to impart knowledge with our daily educational talks, workshops and group sessions geared at empowering you to get back equipped to face the world and all its challenges while maintaining a sense of peace and calm.
At The Beach House we incorporate the disciplined science of Yoga that encompasses all aspects of life in different ways and levels to balance the mind, body and spirit i.e. the three Chakras of your body that will leave you with a fresh perspective and healthier you.